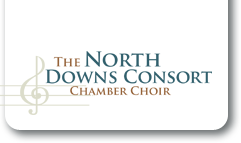 © The North Downs Consort - Registered charity number: 282466







The North Downs Consort
We are a chamber choir drawing its membership from a wide area of Surrey, Kent and South London. Setting a high standard of performance, it seeks to explore the more unusual choral repertoire as well as well known classics.
The choir's 'home' venue is St Paul's Church Woldingham, where we rehearse on Monday evenings, in the church room, from 7:30 pm until 9:30 pm during term time. See our Maps & Directions page for more details on St Paul's Church.
We are a friendly group who are serious about our choral music.
History
The Consort was formed as a chamber choir of up to 30 voices by Brian Allaker in 1977 as the Allaker Consort. Its aims were to perform lesser known liturgical works, mainly a capella or with organ accompaniment; however, as time has gone by, a much wider repertoire has been developed and now includes most types of choral music, ranging from part-songs to major choral works with orchestra, covering a period from the renaissance to the present day. In 1998 the choir changed its name from the Allaker Consort to the North Downs Consort. In 2010 The North Downs Consort appointed Paul Provost as only the fourth Music Director of the Consort in over 30 years. Our latest addition to an exceptional group of Music Directors is Iain Cooper, who joined us in January 2019.
A Registered Charity, The North Downs Consort is affiliated to Making Music (The National Federation of Music Societies) which represents and supports amateur vocal and instrumental societies throughout the UK.