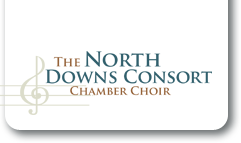 The North Downs Consort is a chamber choir of around twenty to twenty five voices. We are based at St. Paul's Woldingham in the heart of Surrey and draw our members from Kent, Sussex, Surrey and South London.
Welcome
Our aim is first and foremost to enjoy our singing! Lock-down revealed to us how much we missed joining together for music each week and we were delighted that part of our 'bounce back' could be for the Queen's Jubilee Weekend.
We aim to present a themed programme. The process of learning music and then polishing our performance is a deeply satisfying one, both individually and as a 'team'! Our repertoire is varied: we aim to include both lesser-known material and more familiar works, to develop all tastes.
We thoroughly enjoy our choral singing both at rehearsals and in performance.
Click for Details of our next Concert
Latest News & Events
This year, we had a successful concert in April, which included Faure's Requiem and music by Mendellsohn, Brahms, Rutter and other well-known composers.
Our summer concert was on the theme of "Moon and Stars". This included arrangements of popular pieces such as "Moon River" and "Night and Day", which was a departure from our usual repertoire, but was an enjoyable sing.
Our Christmas concert will be on 2 December 2023, at St Mary's Church, Caterham, and will include carols for the choir and audience to sing, some less-familiar carols and some popular Christmas songs.
This year, we will again be singing at the Woldingham open air "Carols in the Crescent" on 9 December.
We are always happy to welcome new members. If you loved choral singing and would like to take it up again, then please get in touch.

© The North Downs Consort - Registered charity number: 282466