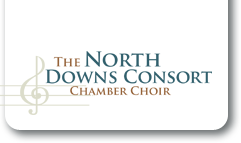 © The North Downs Consort - Registered charity number: 282466







News & Concerts
News, Events, Concerts . .
Working with our present Music Director
All concerts are under our musical director, Iain Cooper, who joined us in January 2019. Future concerts are listed here. We anticipate another enjoyable year of singing - now that we can meet again!
North Downs Consort are recruiting
We currently have vacancies in all sections of our Chamber Choir, especially tenors, and are looking for singers with an ability to blend in.
If you would like to come and sing with us sometime soon to see what we are all about, we would welcome you.
For more information, please contact Jan Hamling (NDC Chair) or any committee member listed on our Chairman & Committee page.
NDC at Salisbury Cathedral
20 March 2017
News
Carol Singing at London Bridge Station
22 December 2016