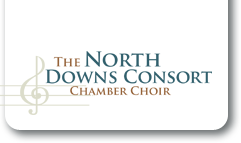 © The North Downs Consort - Registered charity number: 282466







The North Downs Consort is a chamber choir of around twenty to twenty five voices. We are based at St. Paul's Woldingham in the heart of Surrey and draw our members from Kent, Sussex, Surrey and South London.
Welcome
North Downs Consort's aim is to sing some lesser known material as well as more popular works.
We aim to present a themed programme at each of our concerts, and work hard to polish our performances.
We thoroughly enjoy our choral singing both at rehearsals and in performance.
Latest News & Events
Now that life is beginning to get back to some sort of normality, we presented a "we-are-back-again" concert on Saturday 13th November, in St. Paul's Church, Woldingham. The music was chosen to be joyful and uplifting and the concert was well received by those present. A review from the local magazine is reprinted here.
We will be singing at the Woldingham Village Christmas celebration, "Carols in the Crescent", on the evening of 11th December.
We have unfortunately lost a couple of singers during lockdown, and would be happy to welcome new singers to replace them.